Western Balkans: Journalists insufficiently promote quality journalism on social networks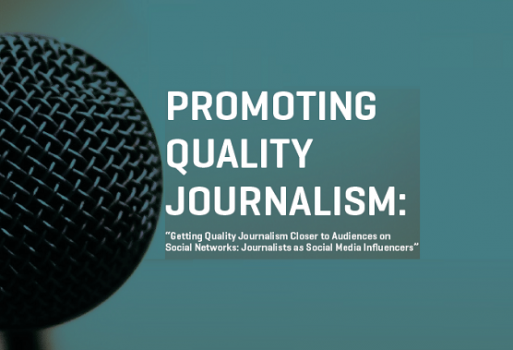 Western Balkans: Journalists insufficiently promote quality journalism on social networks
As an answer to "fake news", more visibility of quality journalism is needed.
'Fake news' thrive where high quality journalism is missing and the role of journalists changed with the emergence of social media platforms. Are journalists in the Western Balkans ready to embrace the change?
"Getting Quality Journalism Closer to Audiences on Social Networks: Journalists as Social Media Influencers" is the first research work into the habits of journalists in using social networks for the promotion of their work in the Western Balkans. Two researchers from Montenegro and Bosnia and Herzegovina argue that journalists should be personally more active in promoting their work on social media. They conducted a research involving more than 120 journalists and editors and started a discussion about a topic that seems to be still fairly new in four of the countries of the Western Balkans: Bosnia and Herzegovina, Croatia, Montenegro and Serbia.
How to use social media in everyday journalism is already old news in some regions. A lack of media freedom in the Balkan countries, the spread of 'fake news' through social networks due to the absence of quality content and the need to rethink journalists' influence within communities, have led them to the question of whether journalists are using social networks to promote quality journalism. Despite some efforts that media outlets are taking and new approaches they are testing, the research concludes that the answer is negative.
The research, focused on journalists' individual engagement on social media, states out three main reasons for such result:
- Lack of digital competences: Journalists in the Western Balkans lack training in use of social networking sites for promotion of their work, both to raise awareness and to provide them with the tools to achieve results. Training, incentives and standards should be offered by media outlets, as relying on personal initiatives is proving insufficient. Offering monetisation opportunities by the biggest tech companies and the owners of social networks, even as small incentives in small markets, would be of great significance for journalists' social media presence and ultimately independence.
- Incongruence of cultures: The culture of individualism underpinning the development of social media influencers is lacking in post-communist countries. This incongruence of cultures is further complicated by issues of journalistic ethical standards, such as not mixing facts with opinions, and understanding that social media engagement requires both. The research suggests that journalists ready to be singled out leaders, who offer a well-balanced and transparent mix of facts and opinions providing context, could bring a significant and necessary change to the media landscape in Bosnia and Herzegovina, Croatia, Montenegro, and Serbia.
- Lack of media freedom and affordability of social networks: Although social media networks are perceived as free from direct political influence and control of local political power centers and control, journalists mostly use social media to receive information from sources. Getting information out to the public through social networks, although seen as free, is perceived as not financially sustainable. The lack of media freedom impedes the production of valuable content, thus journalists who work in politically controlled newsrooms do not feel proud to share the information they produce. Those who build their social media presence use it incidentally as a safety net once their content is banned on traditional media.
More from this research, opinions and experiences of journalists from Bosnia and Herzegovina, Croatia, Montenegro and Serbia is available in the English-language report here.
Drawn by the results of this research and experiences of journalists from the region, follow-up activities in the next six months will include a series of webinars and online educational workshops, as well as surveying needs of newsrooms and creation of a handbook for editors and journalists on the best approaches to promoting professional journalism on social networks in the Western Balkans.
The research and the planned follow-up activities were supported by the Bosch Alumni Network, Robert Bosch Foundation and the International alumni center Berlin.