Moving Stories: How Media Cover Migration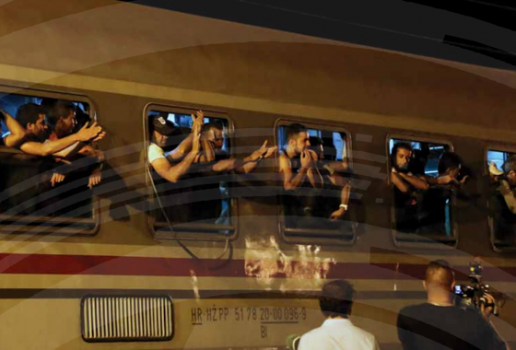 Moving Stories: How Media Cover Migration
An international report on media and the global migration and refugee crisis, issued today to coincide with International Migrants Day (December 18), says journalists often fail to tell the full story and routinely fall into propaganda traps laid by politicians.
The report, Moving Stories, is published by the
Ethical Journalism Network
and reviews media coverage of migration in the European Union and in 14 countries across the globe.
"Around the world media coverage is often politically led with journalists following an agenda dominated by loose language and talk of invasion and swarms," said Aidan White, EJN Director. "But at other moments the story is laced with humanity, empathy and a focus on the suffering of those involved."
The 100-page report highlights missed opportunities (how journalists and media in Europe failed to raise the alarm about an imminent influx of refugees fleeing war in Syria and Iraq, even though the story was there to be told a year before the crisis broke in 2015), hate speech, falling journalism standards and sensationalism that emerged during the coverage. 
To counter these problems, the report recommends that news media take urgent action to appoint specialist reporters to the migration beat. It also calls for industry wide and in-house training on migration issues and problems of hate-speech; improved links with migrant and refugee groups; and more employment of journalists from ethnic minority communities to strengthen diversity in newsrooms.
The report highlights how media coverage, much of it negative and focused on numbers of migrants on the move, took a dramatic turn with the death of Alan Kurdi and the publication of pictures of his body on a beach in Turkey. From that moment journalism woke up to the human tragedy within the migration story.
"In all countries there is good  reporting but too often it is obscured by sensationalism and superficial coverage from tabloid and politically driven coverage. This was particularly true in the Balkans where political leaders were hateful and outspoken without enough media scrutiny and criticism, says Aidan White, Director of the Ethical Journalism Network.
In his foreword to the report Jan Egeland, secretary-general of the Norwegian Refugee Council, sums up the challenge facing media: "It is not just a lack of humanity on the news agenda or a matter of luck or a matter of caring more about some people at the expense of others," he says. "We need a broader lens to see what really is going on."
The lack of a wider perspective often leads media to miss the link between migration and human development. Journalists often ignore the evidence of serious studies that illustrate how migration, despite short-term challenges, is invariably beneficial for economic and cultural development in the longer-term.
The reports states: "There is a tendency, both among many politicians and in sections of the mainstream media, to lump migrants together and present them as a seemingly endless tide of people who will steal jobs, become a burden on the state and ultimately threaten the native way of life. Such reporting is not only wrong; it is also dishonest. Migrants often bring enormous benefits to their adopted countries."
The report examines media coverage in a diverse range of countries. From Australia, a country built by migrants, where media struggle to apply well-meaning codes of journalistic practice within a toxic political climate to Nepal and the Gambia which are exporters of labour. In these countries censorship or a lack of resources - or a combination of both - are mainly to blame for poor coverage.
The reports on migration in China, India and Brazil tell another story. Though large numbers of people migrate from each of these countries, the main focus is on internal migration, a global phenomenon often ignored by mainstream media that involves millions and dwarfs international migration numbers. The biggest movement of people in history has taken place in China over the last 35 years.
In Africa while headlines focus on people leaving the continent and heading north, there is also migration between countries, with many people from the impoverished central regions heading for South Africa – a country where media also deal with problems of xenophobia and governmental pressure.
In Europe, where migration and refugee issues have shaken the tree of European unity, media struggle to provide balanced coverage when political leaders respond with a mix of bigotry and panic – some announcing they will only take in Christian migrants while others plan to establish walls and razor wire fences. The report looks at Bulgaria where media have allowed sensationalism to dominate migration reporting and Italy, where hate-speech is counterbalanced by a purpose-built ethical charter for media. In Britain the report notes how the story is often told without a sense of scale or balance with extensive reporting on the plight of people at a small refugee camp in Calais.
In Turkey, seen by many European politicians as a key country in stemming the onward rush of migrants, most media are under the thumb of a government that punishes dissident journalists, so public debate is limited. In Lebanon where millions of refugees from war-torn Syria are based the story is not helped by confused mixing of fact and opinion by many media.
In the United States the controversial Republican Presidential candidate Donald Trump has made migration an explosive topic. Media time has focused on heated and often racist exchanges which obscures some fine journalism that provides much-needed context. South of the border, media in Mexico suffer from undue political pressure and self-censorship.
"The refugee crisis is not going to go away," says White "and there has never been a greater need for useful and reliable intelligence on the complexities of migration. But if that is to happen, as this report shows, we must strengthen the craft of journalism."
Download the full report
here
.