Regional Conference "Communication in the context of citizen protests" held in Sarajevo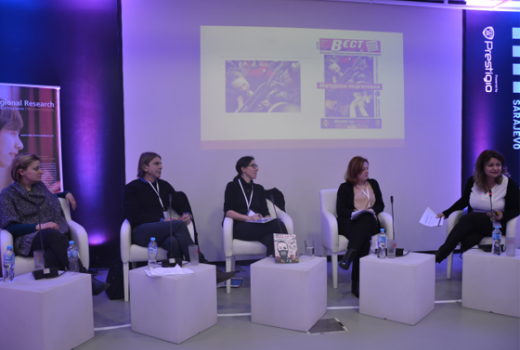 Regional Conference "Communication in the context of citizen protests" held in Sarajevo
The Regional Conference "Communication in the context of citizen protests: The experiences from the SEE region" was held at Mediacentar Sarajevo on 21 January.
The main goal of the conference was to present and discuss the research on communication practices in the context of citizen protests in Albania, Bosnia and Herzegovina and Macedonia that was conducted in the period 2014 -2015.
The research focused on the way the protests are framed in the media content, and on how the three major stakeholders (journalists, activists and party/government officials) perceive the communication practices during the protests.
The conference gathered researchers, media experts, politicians, journalists and activists from Bosnia and Herzegovina, Albania, Macedonia and Slovenia who shared their experiences and discussed recommendations on how to enhance communication between the government, citizens and the media in the course of citizen protests and social uprisings.
"Strong media and political parallelism present collision of the political elite with the media elite, which is a trend not only in the region, but also on a global level. It means that media prefer voices of the so-called strong publics, which are institutionalized publics of political parties and government", said Mojca Pajnik from the Peace Institute Ljubljana, mentoring institution in the research project.
"Too often, we can see the media just putting the microphones in front of elites and reproducing the speech that comes from these strong institutional publics. On the other hand, there is a marginalisation of other voices, of citizens' voices, or, in the context of the research that we conducted, the voices coming from a civil society, social movements and protesters, that are very often treated as so-called weak publics and weak sources", Pajnik added.
Blendi Salaj, journalist and protestor from Albania, stands that protests in his country had attracted a lot of media attention, but journalists in the mainstream media used to "take sides" and cover stories from "specific political angle".
"The only media that actually truly reported on the protests in Albania were the social media. That was something that can't be controlled by the government and it was a place where protests came as an idea, where they were called and organized, and where people were feeding of the protests", Salaj said.

The project is funded by the Regional Research Promotion Programme (RRPP), which is aimed at fostering and promoting social science research in the Western Balkans (Albania, Bosnia and Herzegovina, Kosovo, Macedonia, Montenegro and Serbia). RRPP is coordinated and operated by the Interfaculty Institute for Central and Eastern Europe (IICEE) at the University of Fribourg (Switzerland). The programme is fully funded by the Swiss Agency for Development and Cooperation (SDC) of the Federal Department of Foreign Affairs.