Only 50 places left for participation in the conference MEDIA MEETS LITERACY 2017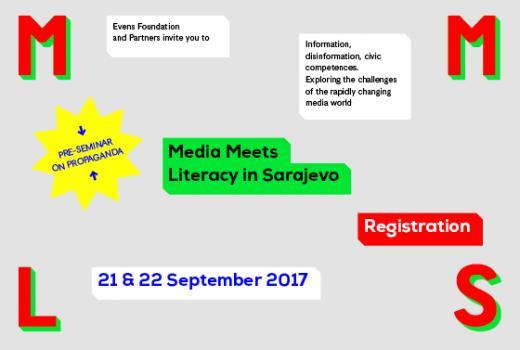 Only 50 places left for participation in the conference MEDIA MEETS LITERACY 2017
Evens Foundation
and Mediacentar Sarajevo are organizing a conference "Media meets literacy", on September 21st and 22nd, 2017 in Sarajevo. The conference will bring together more than 200 media literacy experts from across Europe who will discuss the challenges media are facing by the waves of false and "alternative news" and propaganda. The conference will include lectures, round tables, narrative presentations and specialized thematic "breakout" sessions aimed at researching the crucial issues of media literacy. At the end of the first day of the conference, the Evens Prize for Media Education will be awarded to the most successful project that helps young people, aged 12 to 18, to develop a critical attitude to the media.
Before the conference itself, young journalists and educators (aged up to 35) will have the opportunity to attend a two-day
Propaganda Lab
, a series of workshops that will offer innovative models of combating contemporary propaganda and false news.
Complete conference program is available
here
. The attendance of the conference is free of charge, but the number of participants is limited to 250. There are over 200 applications already received, so there are still only 50 places left for media professionals who plan to attend the conference. Registration is available at the
official web page of the conference
.
The conference "Media meets literacy" is aimed at reinforcing dialogue, cooperation and partnerships between the education and training sector and the media sector, as well as other relevant stakeholders, including civil society and youth organizations. The effective development of media literacy and critical thinking calls for a multi-disciplinary approach. It is important to recall the important role that non-formal and informal learning can play in this regard with the education and training staff at all levels keeping pace with these rapid developments, and providing learners with the competences and values needed to access, interpret, produce and use information and other media content in a safe and responsible manner.