Regional conference "Solutions and Innovations in Media"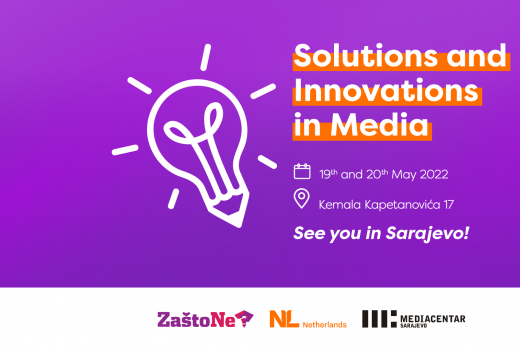 Regional conference "Solutions and Innovations in Media"
Mediacentar Sarajevo and the Association of Citizens Zašto ne, supported by the embassies of the Netherlands in the Western Balkan region, are pleased to invite you to a regional conference Solutions and Innovations in Media, to be held on on the 19th and 20th May 2022 in Sarajevo.
Through panel sessions and lightning talks we will try to find answers to the following questions: How to reach audiences in an oversaturated media market? What are the solutions to content regulation and moderation? How to protect journalists and restore trust? The conference will include master classes on security, ecological journalism and constructive journalism and a mentorship program for young journalists in the Western Balkans.
Working language of the conference is English.
If you are interested in attending the conference, please
fill out the registration form
. Please note that we are able to offer a limited number of travel grants for young media professionals, editors, journalists, and media experts coming from the Western Balkan region who have professional interest in the topics of the conference. You can find additional information in the registration form. 
We are looking forward to meeting you in Sarajevo!