The First Draft of History: Journalists - Witnesses Before the Hague Tribunal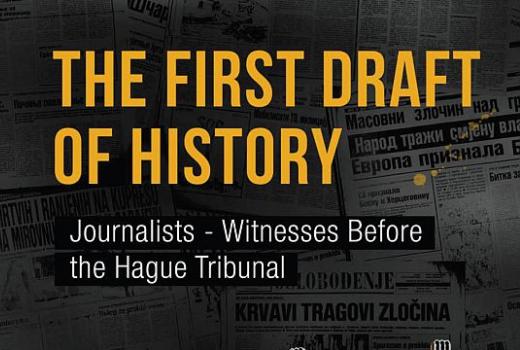 The First Draft of History: Journalists - Witnesses Before the Hague Tribunal
Boro Kontić, Nedim Sejdinović, Elvira Jukić Mujkić, Anida Sokol, Selma Zulić Šiljak and Dragan Golubović
The Book The First Draft of History: Journalists - Witnesses Before the Hague Tribunal was born out of the need to understand and convey the experience of journalists who testified before the International Criminal Tribunal for the Former Yugoslavia (ICTY).
Aiming to shed light on the insufficiently researched role of journalists and newspaper material before the ICTY, Mediacentar Sarajevo's research team gathered and analyzed 2,760 evidence items from the Hague Tribunal court records, while the experiences of 14 journalists who testified before the Hague Tribunal were recorded through in-depth interviews. Details of their experiences as witnesses and the reasons behind their decisions to testify were shared by Andrew Hogg, Alija Lizde, Branimir Grulović, Ed Vulliamy, Florence Hartmann, Jacky Rowland, Jeremy Bowen, John Sweeney, Martin Bell, Sead Omeragić, Slavoljub Kačarević, Tony Birtley, Veton Surroi and Zvezdana Polovina. All interviews were recorded and some portions are available on the project website:
www.medijikaodokaz.ba
.
In addition to the interviewed journalists, the names of 21 other journalist witnesses were noted in the research process: Aernout Van Lynden, Baton Haxhiu, Dan Demon, Deborah Christie, Dejan Anastasijević, Edmond Vanderostyne, Eve-Ann Prentile, Francz-Josef Hutsch, Ian Traynor, Jeremy Francis, Jovan Dulović, Karmen Brlić-Jovanović, Marita Vihervouri, Milivoje Mihailović, Nenad Zafirović, Robert Block, Richard Lyntton, Slađan Lalović, Sredoje Simić, Šefko Hodžić and Zoran Petrović-Piroćanac. Journalists make up less than one percent of the total number of witnesses before the Tribunal.
The book consists of seven chapters in which the authors, from different angles, clarify the role of journalists and the media in the prosecution of war crimes, but also open topics about the basic postulates of journalism in periods of crises and wars. The authors of the chapters in the book are: Boro Kontić, Nedim Sejdinović, Anida Sokol, Elvira Jukić Mujkić, Selma Zulić Šiljak and Dragan Golubović.
"Wanting to record their professional experience in reporting from the territory of the former Yugoslavia and examine the motives for their decisions to testify before the ICTY, the interviews were an opportunity to record how the process of their preparation for testifying went, what the interrogation looked like from their point of view, and ultimately, how they believe they contributed to the court process," the book states.
"This book was created in the desire to thematically present our extensive research on media evidence in the Hague Tribunal database and make it more interesting and readable for different generations and professions," says editor Selma Zulić Šiljak.
Publication is available
here
.