SEENPM Condemns Arrests of Turkish Journalists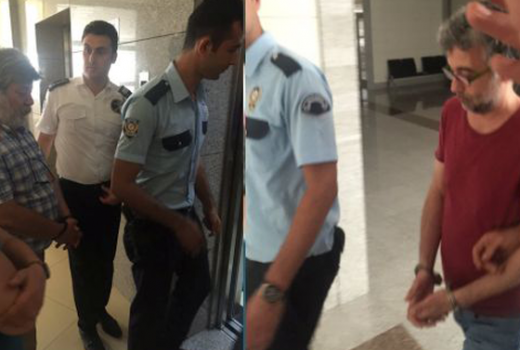 The South East European Network for Profession­alization of Media (SEENPM) strongly condemns the pre-trial detention of two journalists and a human rights activist in Istanbul on 20 June on charges of "making terrorism propaganda." Erol Önderoğlu, Turkey representative of Reporters Without Borders and a journalist with Bianet, a SEENPM member; journalist Ahmet Nesin; and Şebnem Korur Fincancı, head of the Human Rights Foundation of Turkey (THIV) were detained for having taken part in a show of solidarity with the daily Özgür Gündem as "editor-in-chief-on-duty" for the paper.
The scheme to support the repeatedly closed down publication, seen as close to the Kurdistan Workers' Party (PKK), was started on the World Press Freedom Day (3 May) and has seen 44 prominent journalists and activists serving as a "one-day editor-in-chief." 37 of them have been investigated so far.
The arrests come as the latest in a long series of blows to freedom of expression in Turkey, where the government, controlled by President Recep Tayyip Erdoğan's Justice and Development Party (AKP), has aggressively used the penal code and antiterrorism and libel legislation to curtail the scrutiny of public affairs in general and media freedoms in particular. There are close to 40 journalists in prison in Turkey at the moment. Other forms of pressure have included mass dismissals of journalists, police raids of media premises and mob violence against individual media outlets. According to Platform 24, a SEENPM member, "with around 90 percent of the [media] sector under direct or indirect editorial control of the AKP government, including the state broadcaster TRT, there are only three critical TV channels and no more than five small-size independent newspapers left."
SEENPM urges democratic governments and intergovernmental organisations—including the European Union, the UN and the OSCE—to demand the immediate release of the arrested journalists and activists and the cessation of criminal prosecutions aimed at punishing critical reporting. What happens in Turkey has great impact on the region, with governments in South East Europe and the Caucasus often taking their cues from the government in Ankara when it comes to riding roughshod over freedoms of expression.
SEENPM also urges journalists and human rights activists in the region and elsewhere to strongly condemn the latest arrests and express solidarity with Turkish colleagues. We draw attention to the deterioration of the Turkish courts and urge legal professionals to protest the abuse and politicisation of the Turkish legal system.
SEENPM is a network of 18 media centres and institutes across 12 countries of Central and South Eastern Europe.