Presentation of research results and expert discussion: Harmful narratives during elections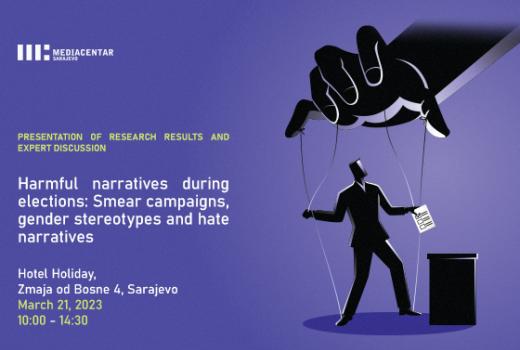 Presentation of research results and expert discussion: Harmful narratives during elections
In a sensitive political environment where media and information literacy is not sufficiently developed, amid divisive political rhetoric, and in an insufficiently regulated online space, harmful narratives can thwart democratic processes, influence the outcome of elections and discredit the electoral process. The impact of harmful content in the current information and media environment in Bosnia and Herzegovina can potentially further weaken institutions at the state level, tighten relations between ethno-national groups, and strengthen the interests of certain political groups within the country, as well as foreign actors.
Mediacentar Sarajevo, with the support of the British Embassy Sarajevo, invites you to an expert discussion and presentation of the publication "Harmful Narratives during Elections: Smear Campaigns, Gender Stereotypes and Hate Narratives", which will be held on March 21 in Sarajevo starting at 10:00 am.
During the discussion, we will present the results of a three-month monitoring of harmful content online during the 2022 General Elections in Bosnia and Herzegovina targeting female political candidates, ethno-national groups, state institutions, in this case the Central Election Commission, and "foreign actors", representatives of international organizations or foreign countries. Panellists will discuss the use of gender stereotypes, conspiracy theories, narratives about "domestic traitors" and "foreign mercenaries" to discredit candidates, the use of hate speech, and the crucial role of the media, anonymous portals and social networks in spreading content that can misinform voters. Recommendations for better regulation and self-regulation of harmful content online, establishment of ethical codes and better educational policies will also be discussed.
The event will be held in B/C/S, with English interpretation.
Registration for the event is open here.
Agenda
10:00 – 10:15 
Introductory speeches  
British Ambassador to Bosnia and Herzegovina, H. E. Julian Reilly
Mediacentar Sarajevo, Maida Muminović, executive director
10:15 – 11:45 
Presentation of research results: Harmful narratives as part of strategic and planned campaigns
Selma Zulić Šiljak, author and project coordinator, Mediacentar Sarajevo
Belma Buljubašić, author, associate professor of political sciences at the University of Sarajevo
Mladen Bubonjić, author, PhD in Cultural Studies
Denisa Sarajlić, editor, PhD in European Studies
Moderator: Anida Sokol, editor and researcher, Mediacentar Sarajevo
12:00 – 13:30 
Recommendations and possible solutions: Legislation, policies and practises 
Lejla Gačanica, author and legal expert
Lejla Turčilo, rewiever, professor at the Faculty of Political Sciences at the University of Sarajevo
Slađan Tomić researcher and journalist
Adnan Huskić, author and professor of International Relations at University SSST 
Moderator: Kristina Ljevak, author and journalist